Wireless Charging RGB Gaming Mouse Pad 10W, 31.5"x15.7" Large Extended Mouse Pad, RGB Mouse Pad, Desk Pad, Non-Slip Rubber Base, Computer Keyboard Mouse Pad Desk Mat for Office, Home, Gaming, Work
Wireless Charging RGB Gaming Mouse Pad 10W, 31.5"x15.7" Large Extended Mouse Pad, RGB Mouse Pad, Desk Pad, Non-Slip Rubber Base, Computer Keyboard Mouse Pad Desk Mat for Office, Home, Gaming, Work
Regular price
Sale price
$42.99 USD
Unit price
per
Sale
Sold out
View on Amazon
Brand: ExtreLife
Color: Black Mouse Pad (with LED)
Features:
【Mouse Pad with 10W Wireless Charger】 Combines mouse pad and wireless charging station into one. It gives more convenience to charge your phone when it runs out of power and also makes your desk clean and tidy. This mouse pad is compatible with iPhone 14/14Plus/14Pro/14 Pro Max/13/13Pro/12/12Pro/11Pro/Xs Max, Samsung Galaxy S22/S22 Ultra/S21/S20/S10, Galaxy note 10/9/8 and all other wireless charging enabled devices. (Note: 10W requires a power adapter 9V 2a or QC3.0/2.0. Power adapter is NOT INCLUDED.)
【Extra Large Mouse Pad】The gaming mouse pad is big size of 800 x 400 mm/ 31.5 x 15.7 inches, which is wider and longer than others. Large mouse pad can perfectly fit your keyboard and mouse of any size. 4mm thickness is thick enough to support a wrist, which ensures your wrist's comfort. Just immerse into your work or games without worrying about the annoying mouse pad movement.
【RGB LED Mouse Pad】 RGB mouse pad provides 7 static modes and 2 dynamic modes giving you the options you are looking for. Power-off and turn on again it will start with dynamic color changing mode. The RGB backlight gives you a colorful gaming setup that you want. 3 charging mode indicator - BLUE for Standby, GREEN for charging, BLUE Flashing for placed error or over temperature protection or trigger FOD.
【Non-Slip Rubber Base & Smooth Surface】 Made from natural rubber, this desk pad will firmly grip your desktop, allowing you to enjoy the ultimate precise mouse control in the games you are most passionate about. It also comes with a smooth, micro-texture cloth surface that enhances this ability even further.
【Waterproof and Easy to Clean】 A spill-proof coating makes liquids slide right off the surface. Effectively prevent damage from spilled drinks or other accidents. Will not delay your work or gameplay. It is easy to wipe clean with a piece of wet cloth, and job done.
Details: Why Choose ExtreLife Wireless Charging RGB Gaming Mouse Pad ExtreLife rgb gaming mouse pad with wireless charger features a smooth, textile-weave design providing extremely precise mouse control and a smooth glide. It also has 9 lighting modes, which give you more options to choose. Whether you want to light up your desk, or slick pad for maximum accuracy and response times in your favorite games, or want to choose a gift for your families or friends, ExtreLife mouse pad with wireless charger is a great choice for you. Non-Slip Rubber Base The rubber base's pattern has been redesigned to provide a stronger grip, keeping the mat steady, no matter how aggressively you swipe.Waterproof and Easy to Clean Mouse Pad has a spill-resistant coating. When you spilled water on it, the large droplet easily rolled off, and you could quickly clean up the remainder with a tissue, which will not delay your game or work.Solid Long-Term Use The stitched edges preventing peeling and fraying. The transparent and firm thin thread does not affect the RGB effect at all. 3mm thickness can absorb the impact of your key presses and helps to reduce the noise of mechanical keys clacking.Light indicator: Blue: Standby, Green: Charging, Blue Light Flashing: Placederror Warm Tips: 1.Because the package is rolled for a long time, if it is not flat, flatten it on the table and press it with heavy objects for 1-2 days. 2.Case Friendly: Case Thickness≤4mm 3.Please align your device's wireless charging coil precisely on the center circle to avoid charge failure/slow charge/overheating. 4.Please use the 9V 2A or other QC 3.0/2.0 wall adapter(NOT INCLUDED) to ensure fast charging.What You Get 1 x Wireless Charging RGB Mouse Pad 1 x 4ft USB Type C Cable 1 x User Manual
EAN: 0609755171418
Package Dimensions: 16.5 x 5.0 x 3.7 inches
Share
View full details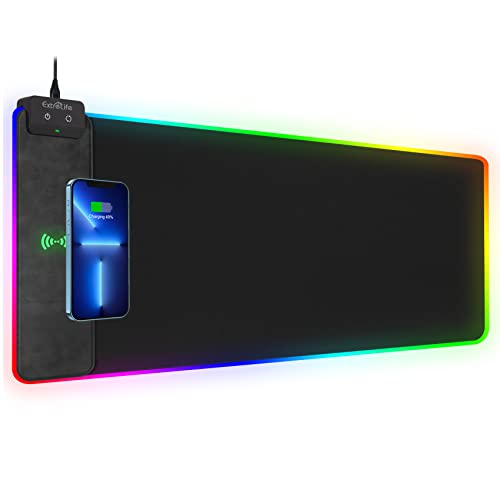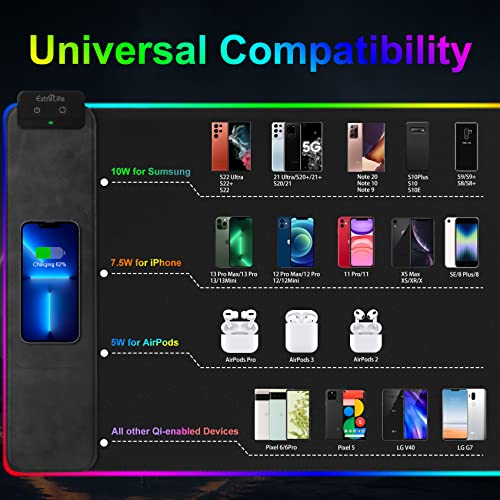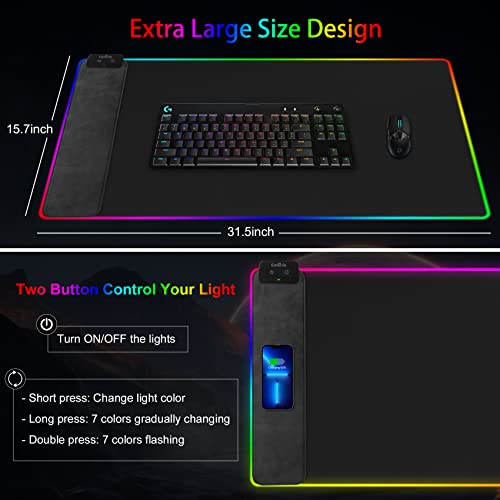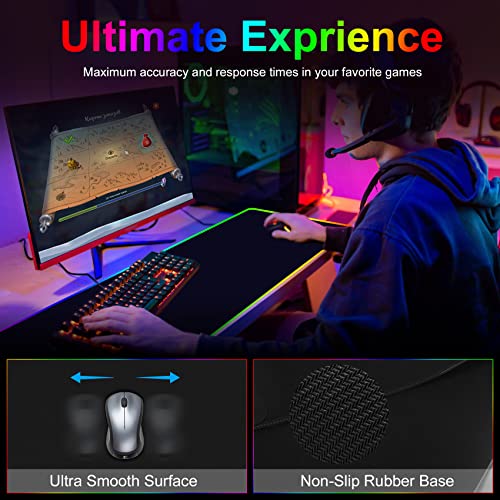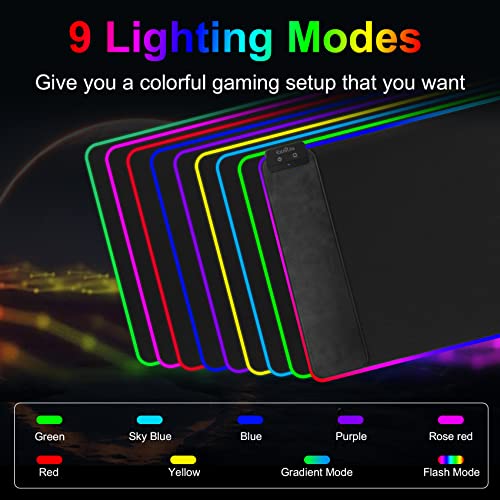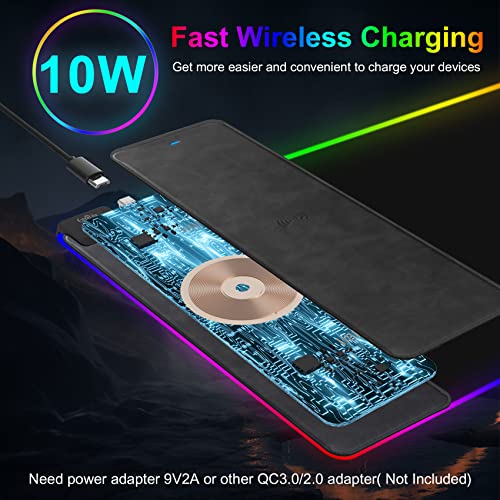 Feel free to contact us with any questions or thoughts :)