FORTEM Chair Cushion, Seat Cushion for Office Chair, Lumbar Support Pillow for Chair, Car Seat Cushion, Back Support Memory Foam Pillow Washable Cover (Black, Mesh)
FORTEM Chair Cushion, Seat Cushion for Office Chair, Lumbar Support Pillow for Chair, Car Seat Cushion, Back Support Memory Foam Pillow Washable Cover (Black, Mesh)
Regular price
Sale price
$39.99 USD
Unit price
per
Sale
Sold out
View on Amazon
Brand: FORTEM
Color: Black Mesh
Features:
Enjoy Pain-Free Life with Ultimate Comfort – Our back support pillow is adjustable to the contours of your body, making it a great lumbar support pillow while driving or working long hours. The seat cushion for office chair is of utmost relief for coccyx/tailbone pain.
Best Orthopedic Pillow – FORTEM chair cushion has an ergonomic "U" Shaped Cutout. This sitting pad is highly recommended by orthopedic experts as it alleviates pressure on the sciatica nerve to reduce back, leg, and butt pain. Enjoy it as an office chair cushion or as a car pillow.
Premium Quality and Easy Maintenance – The seat cushion and lumbar support pillow for car are made from 100% pure memory foam. It helps maintain a healthy body posture by absorbing some of the pressure against your body. This half donut cushion seat and back cushion are encased in a removable, washable mesh covers.
Versatile and Lightweight – Our lumbar support pillow for chair has adjustable elastic straps, it can also be used as a lumbar support pillow for car seat. Desk chair cushion can also work as a car seat cushion, or wheelchair cushion. Being portable, these memory foam seat cushions are your all-time travel companion.
One-year warranty – Enjoy being driver of your favorite car, truck, or gaming on your computer to heart's content. Your FORTEM chair pillow and seat cushion for car come with a full year warranty.
Binding: Kitchen
model number: FRTM-SCLS
Part Number: FRTM-SCLS
Details:  Many of us spend a large portion of our day sitting, whether at a desk at work, driving in the car, or watching T.V., and maintaining a good posture is often the last thing on our minds. Unfortunately, this lack of correct posture causes stress to the lower back and can lead to a lot of pain and discomfort—but hope is not lost! By using good-quality, ergonomic back cushions, you can be sure your shoulders, neck, and pelvis are properly aligned and your spine is in a neutral position, thus avoiding unnecessary stress on the coccyx.  We provide only the very best support cushions, ones that are comfortable, sturdy, and designed to quite literally take the pressure off. Our ultra-comfortable FORTEM ORTHOPEDIC MEMORY FOAM SEAT CUSHION is ergonomically contoured to distribute body weight evenly. It also offers supportive padding that gently conforms to the contours of your body, working as a perfect aid to keep your coccyx, spine, and hips buoyant and relaxed. The durable LUMBAR SUPPORT CUSHION works to support your back for maximum comfort during long periods of sitting. These two products work in harmony to alleviate sore, swollen muscles and joints, and to prevent back pain, while at the same time giving you the feeling that you're sitting in the most comfortable, luxurious seat you've ever encountered! Ideal if you're suffering from a herniated disc, tailbone injury, sciatica nerve damage, a sore back, inflamed hemorrhoids, or if you are pregnant or in a wheelchair U-shaped design has a cut-out that helps relieve pressure on the spine and tailbone Both cushions have a removable, washable cover Easily adjusted for your height and comfort Both cushions are easy to lift and so are perfect to take with you on-the-go. Non-Slip seat bottom 1 Year Warranty Quality Orthopedic Memory Foam Pillow
EAN: 0858080006241
Package Dimensions: 16.1 x 8.9 x 6.3 inches
Share
View full details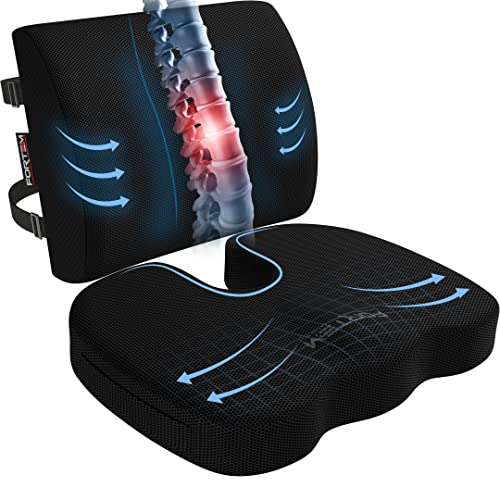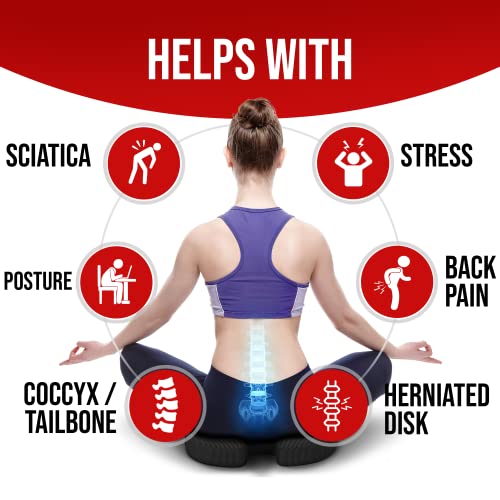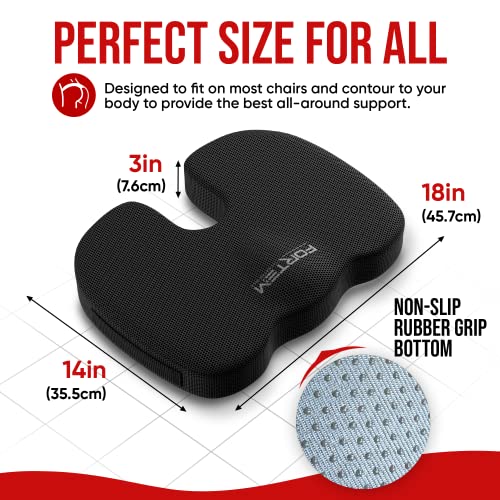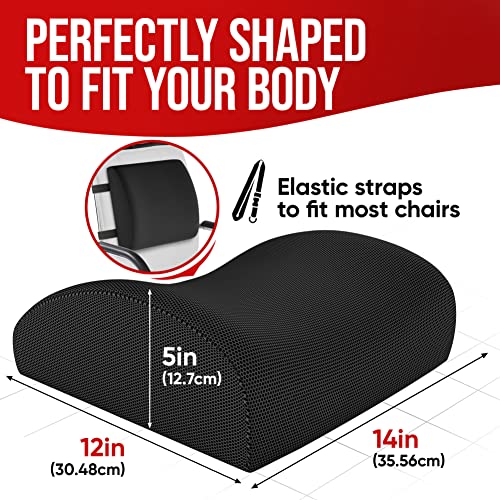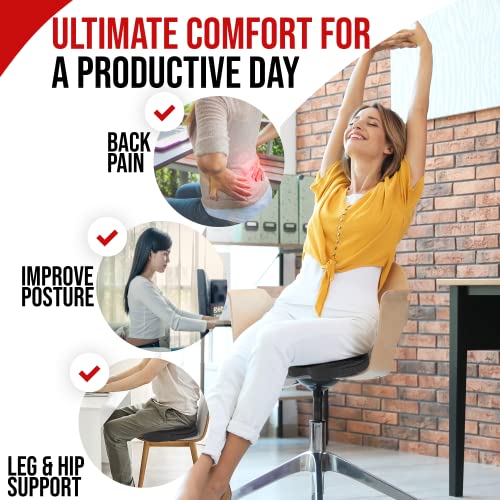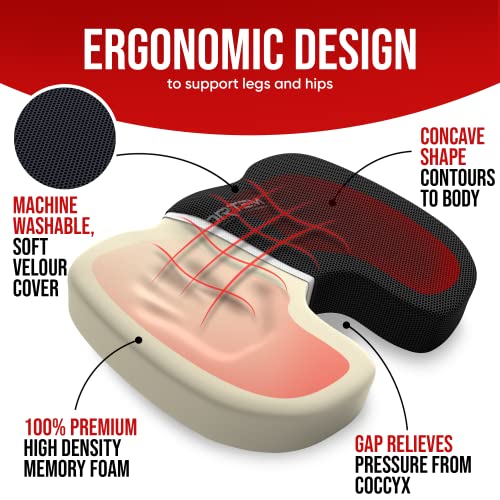 Feel free to contact us with any questions or thoughts :)