Regular price
$199.88 USD
Regular price
$239.99 USD
Sale price
$199.88 USD
Unit price
per
Sale
Sold out
View on Amazon
Brand: COMFIER
Color: Dark Gray
Features:
Relax Full Body - The massage chair utilizes innovative 2D/3D Finger Pressure Shiatsu, Rolling, compression, Vibration and Heat functions to provide you an omni comfortable massage to the back like a spa massage.
Creative 2D/3D Shiatsu Massage - The Shiastu Neck & Back Massager with Heat, it has 4 rotation nodes to provide deep kneading massages for neck and shoulder. This massager incorporates our latest innovative technology, the massaging nodes move inward & outward motion to create 2D or 3D finger pressure shiatsu massage with double comfort for your back.
Adjustable Rolling & Spot Massage - The chair massager features soft rolling massage along the back spine combats across the whole back, and the width between two massage heads can be adjusted to fit the body. SPOT massage function allows you to concentrate massage on one area for pin-point relaxation. Also you can choose Full back, Upper back or Lower back to massage the target area as desired.
Optional Heat & Adjustable Compression Massage - The full back massager has a heating pad that delivers gentle warmth to the back. ADJUSTABLE COMPRESSION-massage on waist & hips that you can choose. Adjustable 3 intensity settings are available.
Ultimate Comfort - Place this seat massager on a sofa, couch, recliner, office chair or dinning chair to enjoy a massage in the comfort of your home ! Perfect christmas gifts for mom, dad, men, women, friends who need a massage. For any reason, if this massage chair pad does not meet your expectations, return it for full refund within 30 days.
Binding: Health and Beauty
Part Number: CF-2309A
Details: This COMFIER Multipurpose shiatsu massage chair combines Shiatsu, Finger Pressure, Kneading, Rolling,Spot, Air compression
and infrared heating functions to help you completely eliminate fatigue and soreness after working hard or driving for a long time.

FEATURES - Optic luxury leather combines soft cozy cloth as cover
- Adjustable shiatsu massagers for neck and shoulder, with a detachable & washable cover For a softer or more intense massage.
- Selective 2D or 3D Special Finger pressure deep tissue kneading massage for full back.
- Rolling massage with Adjustable width on back
- Optional infrared heating on shiatsu nodes to add gentle warmth massage to further relax tension and soreness pain muscles.
- AIR massage on the waist and seat with adjustable 3 intensity levels,
The air bags provide cyclical air compression on waist, thighs and hip which apply you a compression massage.
They go through inflation and deflation to improve circulation, soothe sore muscles.
- SPOT massage, you can choose full back, upper back, lower back or press SPOT control button to focus shiatsu massage on specific area for pin-point relaxation.
- Attach a detachable flap to soften the shiatsu massage on the back.
-Vibration massage on the seat provides mild massage for hips and thighs. Three vibrating intensities: High, Medium, Low for options.
- Set a timer of 15 minutes to auto shut off the massage device.
Warmly remind: You should allow your body some rest periods. To avoid straining your muscles too much,
we recommend to not exceed a continuous massage of 15 Minutes per time and not exceed 3 times use per day.

EAN: 8011517768217
Package Dimensions: 32.3 x 20.1 x 7.6 inches
Share
View full details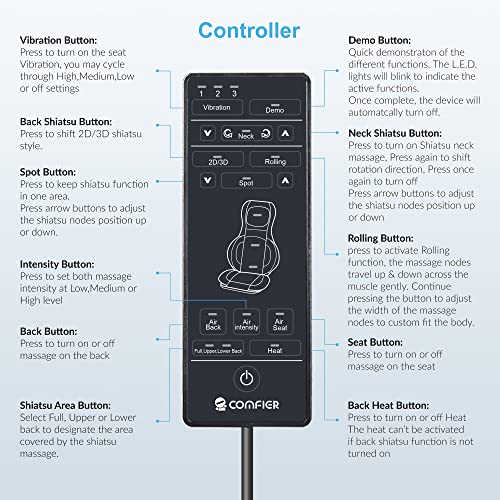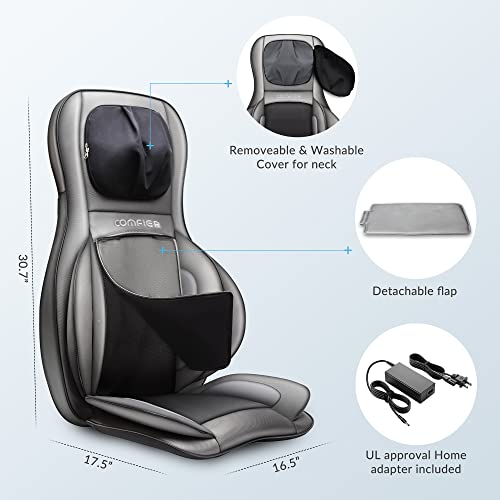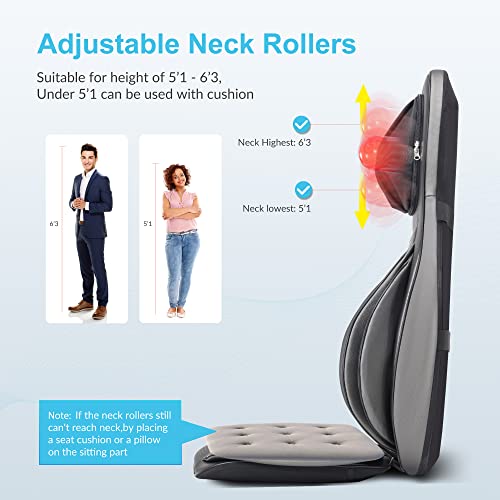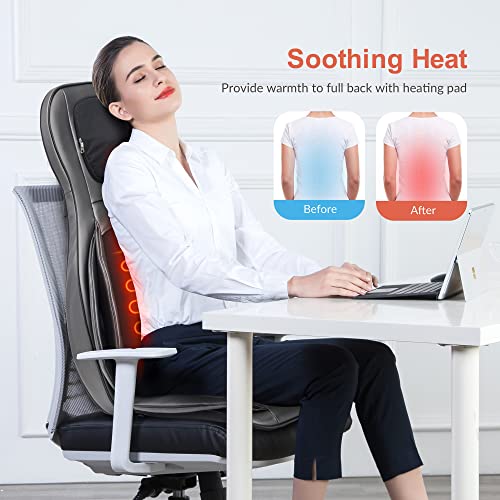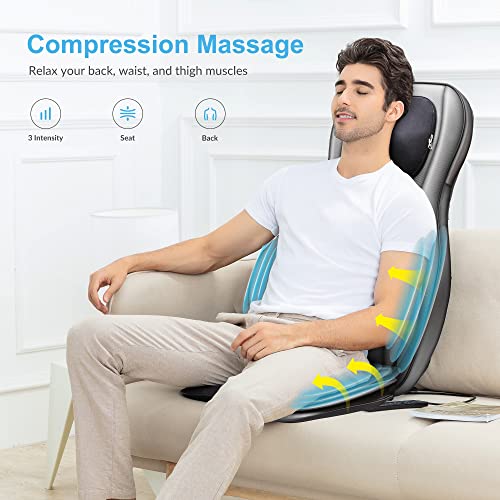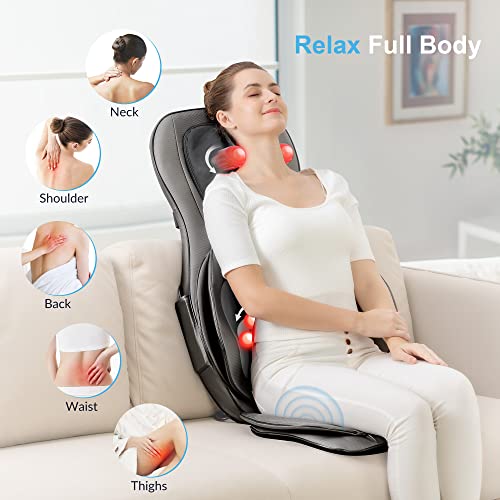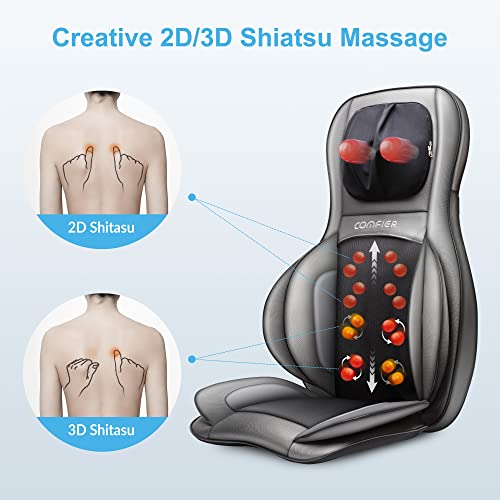 Feel free to contact us with any questions or thoughts :)